The biggest characteristic of the flat pack container house is the professional design, which fully meets the requirements of people for living, such as the heat insulation, heat resistance and sound insulation of the house. This integrated housing is not only professional, but also standardized, modularized and generalized. The integrated house can be used for occupants or for storing goods. In the process of storing goods, you can choose materials according to the nature of the goods. For example, some items that are easy to get wet then you can choose a wall with strong heat resistance to prevent water vapor from air convection in the house.

20'x8' (Optional: 8'x8',10'x8',16'x8',20'x8',24'x8',30'x8',20'x10')

L5855mm*W2235mm*H2625mm

steel structure with sandwich panel wall and doors,windows,etc.

3mm steel structure with 4 corner casts and

1,steel roof sheet;

2,50mm -70mm EPS/rockwool/PU sandwich panel

3mm Hot galvanized steel structure

50/75/100mm EPS/Rock woll/PU sandwich panel

Made of steel/aluminum frame,dimension W870*H2040mm,furnish with a handle lock with 3 keys,or sliding glass door W1500*2000mm.

Made of PVC/aluminum fame,dimension W800*H1100mm,glazed with double glass in a thickness of 5/8/5mm.

PVC Connection kits for ceiling,floor and walls.

3C/CE/CL/SAA Standard,with distribution box,lights,switch,sockets,etc.

Furniture,sanitary,kitchen,A/C,electrical appliance for accomodation,office,dormitory,toliet,kitchen,bathroom,shower,steel

roof,cadding panels,decorative material,etc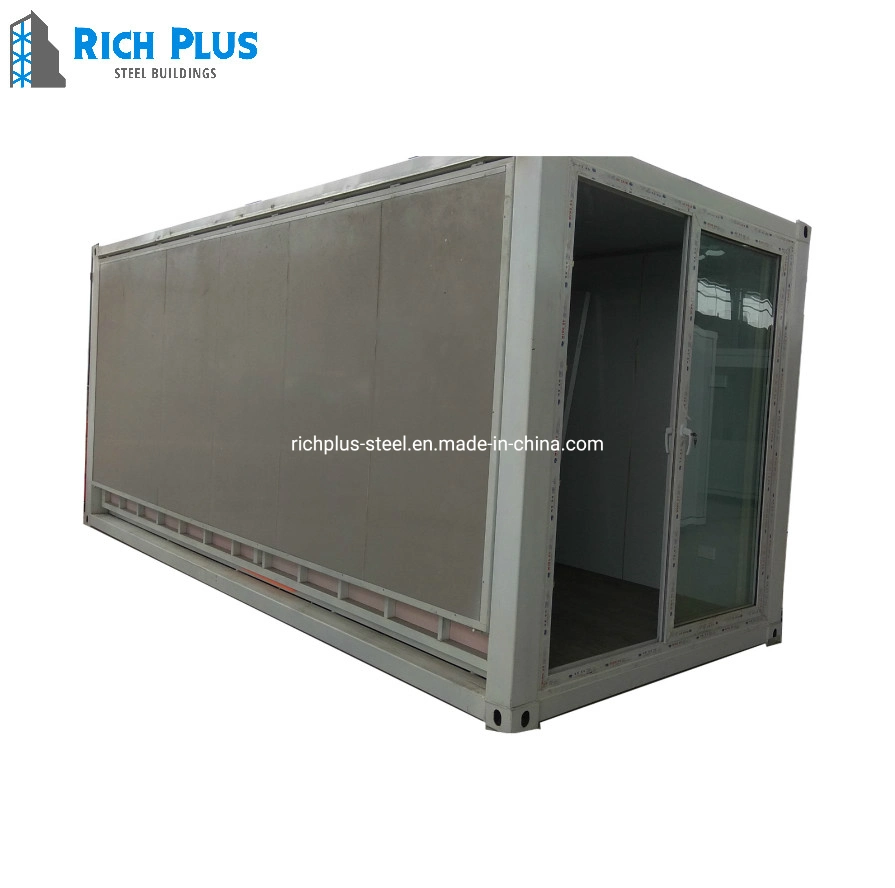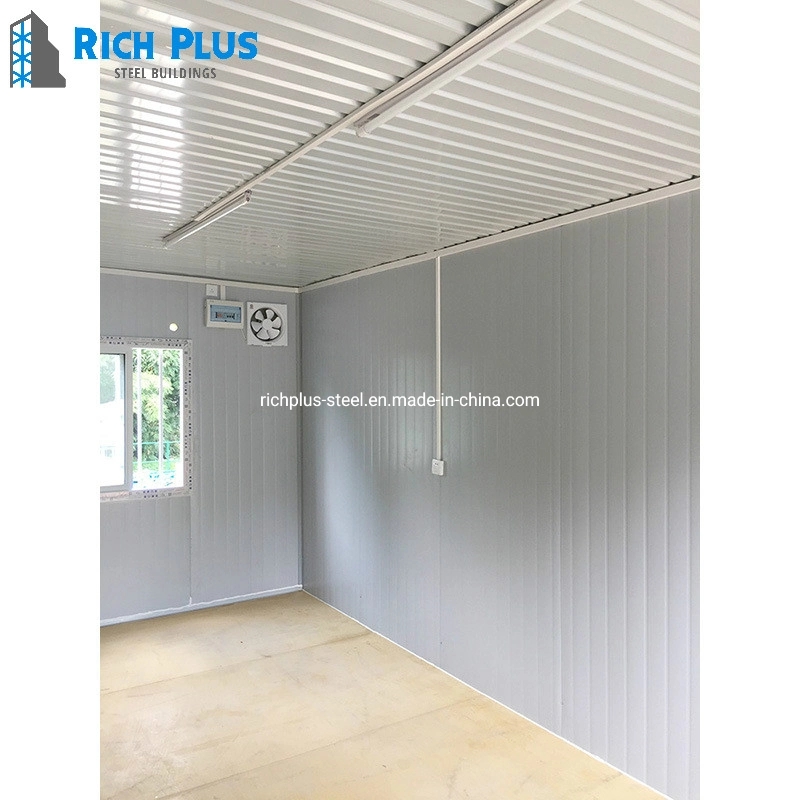 Advantages:
1,Modularity
Fast installation,4 workers can complete one house installation within 3 hours

2. Flexible combination
Several container houses can be combined into a large space to meet the needs of construction site labor camp, field operation barracks, municipal resettlement houses and various commercial houses.And can be stacked to three layers.

3. Safe and durable
The lifetime is more than 15 years, the seismic intensity is 8 degrees, and the wind resistance is 11 grades; fully equipped-can be matched with different shapes of roofs, corridors, rain sheds, stairs, and there are special bathroom containers and kitchen containers for choose, and the appearance and interior can be decorated according to the needs.

4. Highly integrated
No need for secondary decoration on site, hoisting can be moved in place; mobile/movable as a whole, greatly reducing the labor cost of secondary utilization on site.

5. Low transportation cost
After flattening and compression, one 20ft container can load 4 sets; one 40ft container can load 6 sets. In order for long-distance shipping, the container house can be divided into roof, floor,columns, and cladding materials,effectively saving long-distance transportation costs.