Autoclaved Lightweight Aerated Concrete Panel(ALC) is a high-performance lightweight sheet made of high-quality silica sand or fly ash, quicklime, cement, etc., which is cured with a patented formula and a high-pressure steam. This material is widely used in Japan, South Korea , Europe and American countries. Because of its excellent thermal insulation and fire resistance and fast construction period, it can be widely used in concrete structures and steel structure houses, office buildings and other commercial buildings, factory interior and exterior walls, floors, roof panels. , firewalls, explosion-proof walls, steel beams and columns fireproof panels, sound insulation walls, renovation of old buildings and other layers.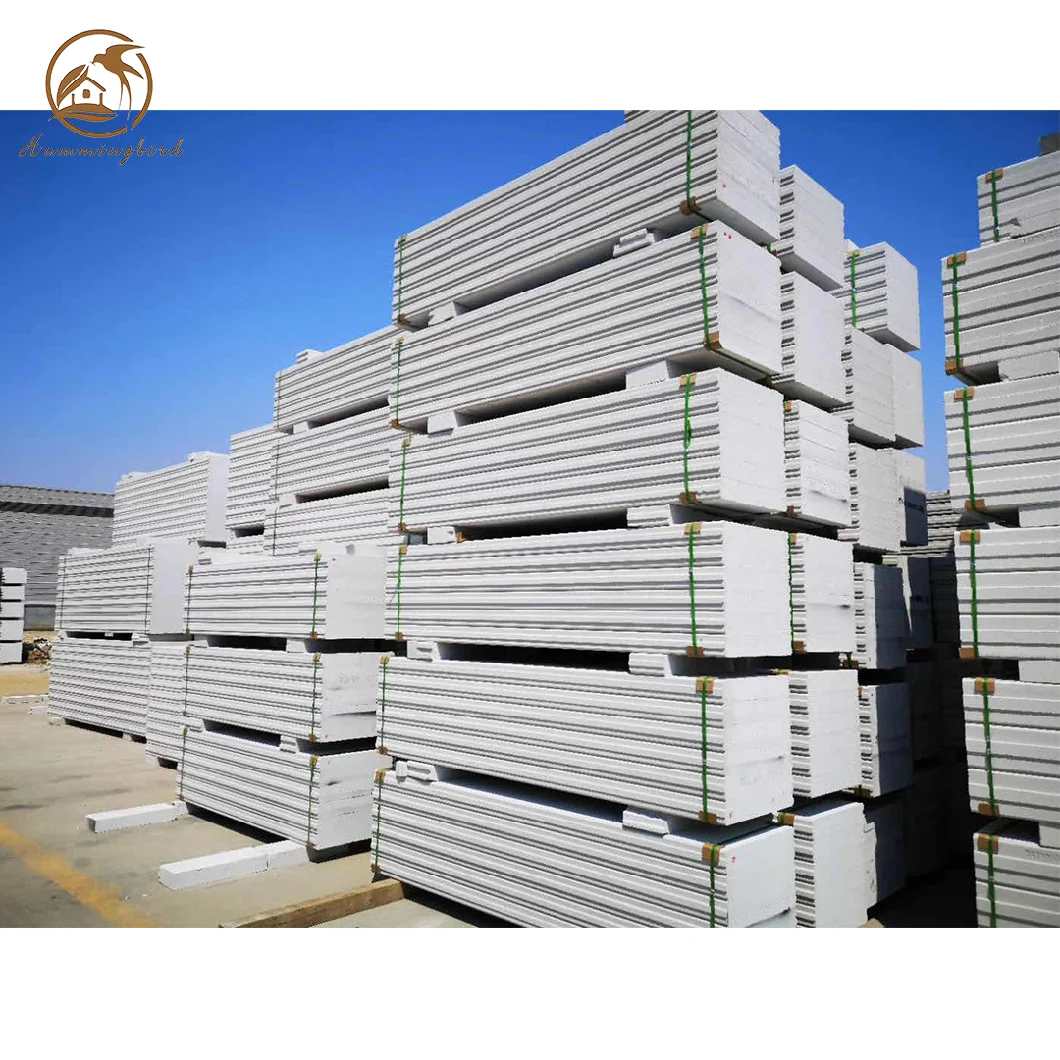 Technical Date
•Environment protection: The first Advantage of Autoclaved Aerated Concrete is designed for consumers who are environmentally conscious. It helps reduce at least 30% of environmental waste, decrease over 50% of greenhouse radiation and over 60% integrated energy on the surface of brick.
•Energy saving: The remarkably good insulation properties of Autoclaved Aerated Concrete mean a pleasant interior environment is achieved. In most cases the need for supplementary insulation can be avoided.
•Excellent acoustic performance: Autoclaved Aerated Concrete has excellent acoustic performance and can be used as an effective sound barrier.
•Fire resistant: This Advantage of Autoclaved Aerated Concrete is totally inorganic and is incombustible. The product is especially suited for fire-rated applications.
•Non toxic: Autoclaved Aerated Concrete products do not contain any toxic gas substances. The product does not harbour or encourage vermin.
•Lightweight: Autoclaved Aerated Concrete blocks are one-fifth of the weight of concrete and are produced in easily handled sizes.
•Accuracy: The accurate manufacturing process ensures that Autoclaved Aerated Concrete panels and blocks are always produced to size as they leave the factory. This results in less on-site trimming and reduced quantities of mortar and finishing materials use.
•Long life: Autoclaved Aerated Concrete products are not affected by harsh climatic conditions and will not degrade under normal atmospheric conditions.
•Rapid on - site essembly: The Autoclaved Aerated Concrete product's lightweight and easy workability means that is very quick to install on site.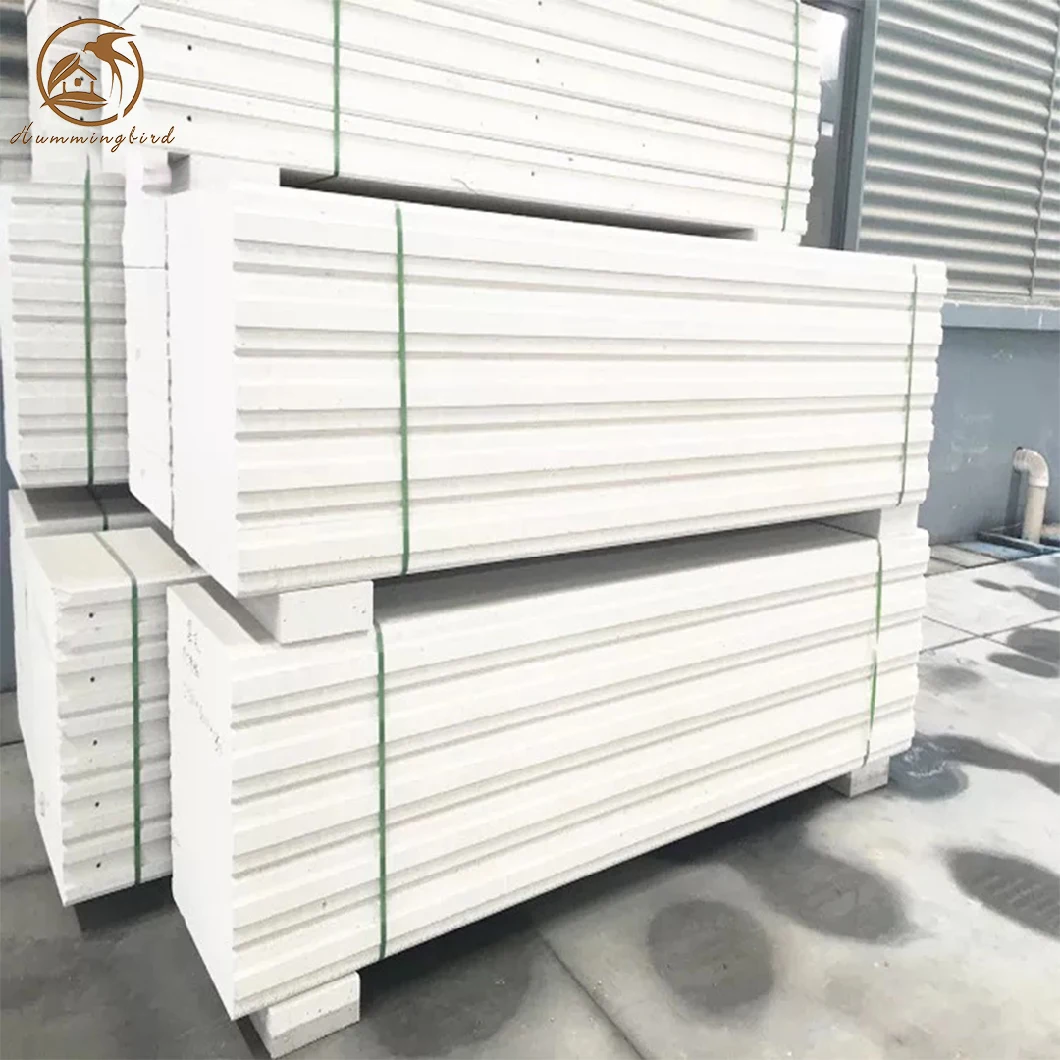 Technical Data

Bulk density grade

B04

B05

B06

B07

Normal dry density(kg/m3)

Prime(A)<

400

500

600

700

Acceptable(B)

425

525

625

725

Strength grade(MPa)

Prime(A)

A2.5

A3.5

A5.0

A5.5

Acceptable(B)

A2.0

A2.5

A3.5

A4.0

Drying contraction(mm/m)

Standard method

0.5

0.5

0.5

0.5

Rapid method

0.8

0.8

0.8

0.8

Frost resistance

Weight less%<

5

5

5

4

Strength (Mpa)>

Prime(A)

1.6

2.8

4

4.5

Acceptable(B)

1.6

2

2.8

3.2

Thermal conductivity

Dry (w/m.k)

0.11

0.13

0.15

0.16
Q
: Why choose Hummingbird Panel?
A
: Hummingbird Panel can be installed quickly and can help to reduce construction and labor costs. It is characterized bysteel-reinforced, load-bearing, lightness, sound and heating insulation, fireproofing, environmental protection, etc.
Q
: What's the application of Hummingbird Panel?
A
: Hummingbird Panel can construct interior walls, exterior walls, ornamental walls, floors, roofings, claddings, ect.
Q
: Do Hummingbird Panel have any international certification?
A
: Yes. It has ASTM for USA, EN for Europe, AS for Australia, ect.
Q
: How to contact Hummingbird?
A
:refer to our website: hummingbirdalc.en.made-in-china.com